Planning to take up Scuba Diving lessons? Here is how to choose a reliable dive operator.
S$370 all-in package for a beginner dive course? That was an example of how low diving packages were going for at a recent dive expo fair in Singapore. Everyone loves a good bargain (myself, included), but not all dive schools and operators are the same, and differ in their business models and levels of service. So what do you look out for?
THE BASICS:
Most, if not all, entry-level and recreational diving courses are sold in Singapore as an all-in package comprising three components:
(A) Theory lesson and examination
Either e-learning, classroom lectures, or a combination of both.
(B) Confined water training sessions
Usually held at a swimming pool or from the shore, in pool-like conditions in clarity and depth. "Confined" means the training is done in shallow water, where the student can stand up in, and also in deeper water, where they can't.
We recommend doing the training in a swimming pool in Singapore. It is difficult to promise good conditions from the shore, there can be surf and waves, and you may be 'bobbing' up and down while trying to learn and perform your skills for the first time. If you face problems then, you may not be able to carry on with the deeper sea dives. Of course if you feel very confident about the confined water sessions, then by all means.
During this segment, a basic waterskills assessment will be done, and students have to swim 200m in the swimming pool, without pausing. Frogstyle, freestyle, butterfly, it's all up to you! Time to get back in shape!
(C) Open water training dives
To fulfil the last requirement, many dive operators bundle their open water diver course with a trip to Malaysia, such as to Pulau Tioman (located off the the east coast of the Peninsula). These are usually run as a weekend getaway, leaving Singapore on Friday evenings, crossing the border by bus and heading north to the coastal town of Mersing, before transferring by boat to Tioman. The open water training dives are completed over two days, on Saturday as well as Sunday morning, before making the return journey home.
Others can also include a live aboard departing directly from Singapore, without the hassle of going through immigration, example like going onboard MV Mega Explorer, they usually cost more of course. Some dive shops also conduct their open water training dives in Singapore waters, at the southern island of Pulau Hantu.
An entry-level scuba diving programme, like the PADI Scuba Diver and Open Water Diver Course, is the gateway for beginners to the underwater world. Upon successfully completing and passing the theory and practical portions of the course, students are given an open water diver licence, which is internationally recognised and gives them the opportunity to dive in other locations worldwide. Some training agencies are more recognised in other parts of the world, outside Singapore.
#1. Travel essentials
Before signing up for a dive course, it's good to ask how the trip to Malaysia or other places are being run. Some dive operators have their own coaches and dive boats, which means that the trip runs according to their schedule and timings. Once you reach Mersing, the dive boat is ready to depart.
Other dive companies also tap cross-border bus services which operate from Singapore to Mersing, and scheduled ferries from Mersing / Tanjong Gemuk to Tioman, such as the Bluewater Express or Cataferry. While ferry timings are fixed, they can be delayed, and sometimes horrendously late on the way back.
As Singaporeans, we love our food! Some dive resorts will offer buffet style meals while others have shared-table dining options where dishes are shared among diners (for example 10 diners to a table). Other packages do not include meals at all. So ask your dive operator what the dining options are. After all, we need "fuel" to scuba dive!
#2. Carrying gear
Humans are not designed to breathe or see underwater without aid, so before you take your first breath underwater you will need to assemble and don some equipment, like a scuba tank, buoyancy control device (a jacket-like contraption), a regulator set, mask, fins, a weight belt with weights, and a wetsuit. You should be using the same or similar equipment during your confined water and open water training dives.
Some dive operators require their students to carry the scuba gear (with the exception of the tanks and weights) with them, from Singapore up to Tioman. Other dive companies have sets of scuba gear both in Singapore and Tioman, so divers don't have to lug the equipment with them.
Besides its always a joy to travel light, and have luggage space for the extra swimsuit or beachwear!
#3. Ratios
Every diving training agency, from PADI, SSI, SDI, NAUI, TDI, SDI, CMAS, PDIC and GUE just to name a few, has a set of training standards which dive Instructors and their companies have to adhere to. One of these is the student to instructor ratio, which ensures that training is conducted safely, and the students are given sufficient attention. So it's important to ask the dive operator: How many students to one instructor? Will there also be divemasters to assist the instructor in a class with more students?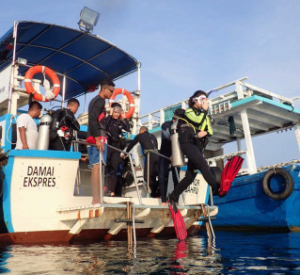 #4. Google the dive operator
Do some web research. Does the dive company have a website of its own, or is it only relying on social media channels to establish its presence? Does the dive operator have an established history and track record? Do they claim to be the "best" or the "most preferred"? Are they really? Do more likes on Facebook mean they are better?
Also check out the profiles of the dive instructors the school has. While everyone can follow the curriculum, a great dive instructor – who has good personal character traits, loves to dive and is serious about the sport – can make all the difference to showing you the right habits and attitudes in scuba, and a lifelong love for the ocean and diving.
Check the ratings on Google, TripAdvisor, Instagram and Facebook and read what customers are saying about their experience. Look at how the dive company markets itself: Do they emphasise on only having fun and a good time? Look at how their divers appear in photos: Do they show good diving habits – such as taking care of the environment and being respectful of marine creatures? While online reviews are not always the most accurate indicator of how reliable or good a dive operator is, they do help with the decision- making.
#5. Licences
Because dive operators run trips to Malaysia, they are essentially travel agents. As such, they are required to have a Travel Agent (TA) Licence from the Singapore Tourism Board. In November 2018, a dive operator was fined $14,000 by the tourism board for running more than 50 trips without a TA licence.
Why is this important? It all boils down to accountability. If the whole package runs smoothly, then there is no issue. It is when incidents crop up, then you will be asking yourselves where you can, as a consumer get compensation? Dive trip insurance should also be bought, a 2d2n trips costs only $26 from AIG, as an example.
So I hope this gives those wishing to take up scuba diving a quick guide into how to choose a dive operator and some factors to consider, other than price.
Start right, learning is a journey. Dive safe, have fun and love the environment. Your friend is waiting for you!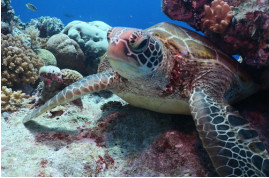 Yours In Diving.
Christopher Lee (PADI Course Director) and Adrian Lim (PADI Staff Instructor)
Simply Scuba Private Limited.
https://simplyscuba.com.sg/wp-content/uploads/2016/02/tioman-island.jpg
640
960
chris
http://simplyscuba.com.sg/wp-content/uploads/2017/09/simply-logo.png
chris
2019-05-07 16:45:26
2019-05-27 02:06:17
Planning To Take Up Scuba Lessons?