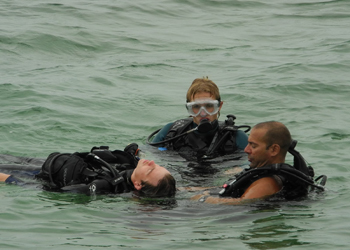 We offer from beginner to instructor level. Weekly programme.
Develop Your Diving Skills with Simply Scuba Singapore
Are you a certified diver? Do you want to develop your diving skills but are not sure what is the next PADI Course for you to take? At Simply Scuba we provide the full range of PADI Courses through to Instructor level and we provide the most professional dive training in Singapore. Not only do we have our own pool to use here in the city and a full service dive centre, we also combine our courses with weekend trips to Tioman in Malaysia! We know how busy life can be here in Singapore so we structure our courses around evenings, online learning and weekend water sessions – meaning you don't need to take time off work or change your schedule.
To find out what's next for you, find you current PADI certification level in the list below and read on!
I am Open Water Certified:
Great! You are already certified and know the basics of diving. The next step is to take your PADI Advanced Open Water Course. The Advanced Course includes making 5 phenomenal dives in Tioman – which can be done in one weekend (2 days and 2 nights).
You'll need to take the Deep Dive and Navigation Dive, and the other 3 dives are for you to choose. Once you have completed the course you'll be certified to dive to 30 meters!
I am Advanced Open Water Certified:
As an advanced diver we know that you can take care of yourself so now it's time to start learning how to take care of other divers through the PADI Rescue Diver Course. During the course you'll learn how to prevent accidents from happening and how to act should an accident occur. We run the diving sections of this course over a 2 day, 2 night stay in Tioman and the theory can be taken online.
To become a PADI Rescue Diver you'll also need to be certified as an Emergency First Responder (EFR). The EFR course teaches you how to perform CPR as well as first aid procedures. The EFR course can be taken at our dive centre here in Singapore. The course applies to diving and non-diving situations and is a great addition to your professional CV.
I am a PADI Rescue Diver:
PADI Rescue Divers can choose to continue as recreational divers and become a PADI Master Scuba Diver – which is often referred to as the "black belt of scuba diving" or decide to become a professional diver by becoming a PADI Divemaster.
PADI Master Scuba Diver: To become a PADI Master Scuba Diver you'll need to complete 5 PADI Specialty Courses. You can choose from an entire range according to the types of diving you like most. PADI Specialty courses are usually weekend courses and it's often possible to complete two specialties in one weekend Tioman trip. You don't need to take all 5 at once, you can spread them out over as much time as you like.
PADI Divemaster: The PADI Divemaster certification is the first level of professional diver. As a PADI Divemaster you'll be able to organize dive trips, guide certified divers and assist PADI Instructors when they are teaching PADI Courses. This is the first step in turning your passion for diving into an income. If you don't want to work in diving, the PADI Divemaster course is still an extremely challenging and rewarding program to take. For more information about the PADI Divemaster course, check our Divemaster information page here.
I am a PADI Divemaster:
You have already taken the first step toward becoming a PADI Instructor – the most sought after job in the diving industry! Becoming a PADI Instructor means taking the PADI IDC (Instructor Development Course). At Simply Scuba our IDC's are taught by our Course Director Chris Lee who has decades of experience in the diving industry. Our IDC Singapore programs are carefully structured to fit around your working time and your schedule. We run our courses over evening classes and weekend trips to Tioman. We know your time is important and Chris has developed the schedule over years of understanding people's needs. If you are thinking about taking your IDC in Singapore, contact us and we will give you more information and answer any questions that you have. If you'd prefer to send an email you can do so to: chris@simplyscuba.com.sg
Whatever your level is now, and wherever you want to go next, we are here to help you get there.
We hope to meet you soon!
https://simplyscuba.com.sg/wp-content/uploads/2019/04/padi-rescue-diver-1.jpg
250
350
chris
http://simplyscuba.com.sg/wp-content/uploads/2017/09/simply-logo.png
chris
2019-04-01 04:38:34
2019-04-05 07:19:46
PADI Con ED